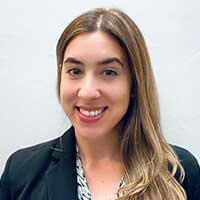 Julianne Gonzalez is a Clinical Supervisor at the Florida Autism Treatment Center (Miami location). Julianne started working in the field of Applied Behavior Analysis in 2013 as a behavioral therapist. She received a Bachelor of Arts in Psychology from Florida International University in 2014 and shortly after became a Board-Certified assistant Behavior Analyst (BCaBA). Julianne continued her education and obtained a Master of Arts in Professional Behavior Analysis from the Florida Institute of Technology where she studied under Yanerys Leon, Ph.D. In 2017, Julianne acquired her certification and became a Board-Certified Behavior Analyst (BCBA).
Julianne currently works with a variety of families in multiple settings, including home, school, community, and clinic. As a Clinical Supervisor, Julianne plays an active role in the training and supervision of Registered Behavior Technicians (RBT's) and oversees behavioral reduction and skills acquisition programs. Julianne has experience working with individuals diagnosed with a variety of developmental disabilities including Autism Spectrum Disorder, Down syndrome, Attention Deficit Hyperactivity Disorder, Cerebral Palsy, etc.
Julianne is committed to providing support to all her clients, as well as their families. She is extremely passionate and invested in the ever-developing field of Behavior Analysis and utilizes evidence-based strategies to further develop an individual's behavioral health.
Current Interests
Staff training
Parent/Teacher training
Verbal behavior development
Behavior reduction
Functional living skills
EDUCATION
M.A. in Professional Behavior Analysis from Florida Institute of Technology
B.A. in Psychology from Florida International University
Personal Interests
Traveling
Working out
Spending time with family